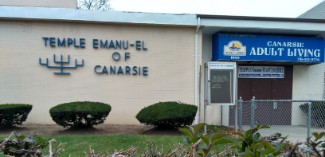 ---
---
Welcome to Temple Emanu-El of Canarsie!
www.canarsiesynagogue.org
Our Egalitarian Shabbat Services are conducted weekly (unless otherwise noted) as follows:
Friday Night 8:00 pm
Saturday Morning 10:00 am
Please support our Jewish community! Attending Services is important. Our services require a minimum attendance called a "Minyan" for more about that: Click here
For more information Temple Emanu-El of Canarsie, please call the temple office at 718-251-0450.
---
Notes for this week:

---
About us:
Founded in 1957, Temple Emanu-El of Canarsie recently celebrated its 60th year anniversary!
Temple Emanu-El of Canarsie is the nearest Egalitarian Synagogue serving travellers using JFK Airport; we also serve the area community in southern Brooklyn, eastern Brooklyn & southern Queens county! For a more detailed history click here:
---
Contact Information:
Temple Emanu-El of Canarsie
1880 Rockaway Parkway, Brooklyn, NY 11236 | Click here for map location!
(718) 251-0450
---
Links:
For the latest and greatest about our synagogue, please check out our Facebook

page!

Please check back frequently for updated links to our newsletter "The Shawl" (Current issue Vol 81 November-December 2018)
---
Contact us at temple1880 AT aol dot com
---
Site updated 02/07/2019. Please come back soon!
---
(c) 2019. Temple Emanu-El of Canarsie